San Francisco's
Musee Mechanique is closing
, and the campaign to save it surges across the net. It is ironic that these old mechanical toys are being retired just after the closing of the popular exhibit at the Getty Museum,
Devices of Wonder
. But I am more concerned with the
Camera Obscura
adjacent to the Musee.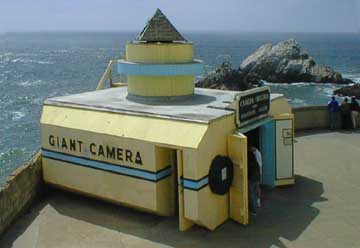 Back around 1990-92 when I lived in San Francisco, I often took visitors up to the Camera Obscura and the Musee Mechanique. It's the sort of place that you never go to yourself when you live near it, but when out of town visitors come, that's the sort of place to go. Back around '92 when I left SF, they were threatening to close the Camera Obscura but the local photographers and galleries banded together and worked to save it. It looks like they were successful, the Camera is on the National Register of Historic Places. But without the Musee, there probably won't be enough traffic to keep the Camera in operation. If the Musee goes, the Camera will probably be next. Unfortunately, the Camera is not something you can relocate to another location, it's there because of the view from the Cliff House.